One of our Club Sponsors is sponsoring a BIG Raffle!

During the Arts West Unique Gifts Event on Thursday, September 22, 2005, there will be a raffle to benefit the wildlife animal rescue organization, Sarvey Wildlife Center.





Since 1981, Sarvey Wildlife Center (www.sarveywildlife.org) has been providing food, shelter, and rehabilitation to orphaned and injured wildlife. They also educate the public to the needs of wildlife. It's a 501c3 non-profit organization that saves hundreds of wild animals each year thanks to volunteers and donors.

Every cent donated to the raffle will go directly to Sarvey, so any money donated above the value of items won in the raffle may be tax-deductible!

There are many items to win, one of which is an A/C Meerly Looking with Pink Leaves!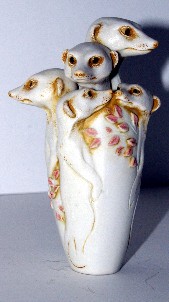 Pink Leaved Meerly Looking
Image Courtesy of Sarah Manningsmith

Raffle tickets are 1 for $5, 5 for $20 or 30 for $100. For more information and a list of prizes, click on http://www.artswestug.com/shownews.asp?newsid=50
Please call or email Sarah at sarah@artswestug.com with any questions, to see pictures of the items, and/or to buy raffle tickets.

Arts West Unique Gifts




Factoria Mall, Bellevue




Sarah@ArtsWestUG.com

425-746-0355




888-248-9480